This is dēzl
If driving is your business, rely on navigation that delivers as well as you do: dēzl 770LMT-D, dēzl 570LMT-D and the new, top-of-the-line dēzlCam LMT-D. dēzlCam is our first premium trucking navigator with built-in dash cam that serves as a trucker's eyewitness on the road6. All dēzl models have features designed to meet the demands of life on the road for professional drivers.
Serious Hardware
Easy to see, hi-res touchscreens and easy to hear, extra loud speakers. Built with the proven quality you expect from Garmin.
Customized Truck Routing1
Just input the specifications of your rig and load. dēzl uses your profile1 to find the most efficient route across Europe and alerts you to conditions that could affect you along the way.
Onscreen Guidance
This is GPS for trucks. Rely on advanced Garmin technology to help you navigate complicated interchanges and keep you informed about the latest road conditions ahead. Along the route, quickly and easily find points of interest that matter to professional drivers.
FEATURES
All features not included on all models. See specific product pages for details.
Built-in Dash Cam
dēzlCam™ is a 6.0" premium trucking navigator with a built-in, high definition Dash Cam that serves as your onboard eyewitness by continually recording your drive. The swivel lens is adjustable for optimal viewing angle from your windshield or dashboard.
The Incident Detection (G-sensor) automatically saves video footage if a collision or harsh braking is detected.
Use the Snapshot feature to take still pictures, even remove dēzlCam from your truck to take close-up pictures of collision damage, if needed. Playback video footage right on the large 6.0" display or watch later on your computer. Includes microSD™ card for recording driving footage, no separate purchase required.
Magnetic Mount & Charger
dēzlCam comes with a powerful magnetic mount that features a built-in charger. The mount aligns dēzlCam and safely secures it to your dashboard. Plus, while you drive, the unit is constantly charging.
If you are affected by after-sunset regulations, know local sunrise and sunset times. On the road and along your route, mile markers pinpoint your precise location.
State and country border notices give you a heads-up 5 miles before you reach a new state line or the border to a different country.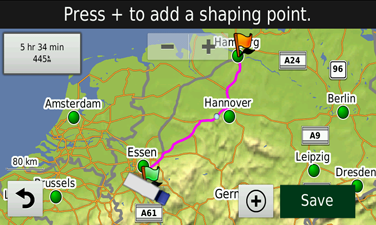 If you prefer to drive on certain streets or through specific towns, Easy Route Shaping easily changes your route to include preferred roads or cities, by simply touching the screen.
Navigate Complex Interchanges with Ease
Only dēzl has Active Lane Guidance (ALG), technology that helps you navigate intersections and exits with greater confidence. Approaching your exit, you will see two images onscreen: the left displays your route and the right is Active Lane Guidance. ALG is a live-action model that highlights the lane you need for your route and gives you time to move into that lane.
Thanks to photoReal junction view, you see exits as they appear in real-life: in full-colour and great detail. Bird's Eye junction view offers a detailed view of interchanges, looking down as if from overhead.
Smartphone Link Compatible
Smartphone Link2 is a free app that lets you connect your dēzl with your smartphone. Once linked, the devices use your smartphone's existing data plan to share information.
Smartphone Link also lets you access Garmin Live Services, useful real-time driving information, available free and by-subscription. You may purchase premium content – like advanced weather radar data and images from traffic cameras – within the app.
Download Smartphone Link for Android™ in the Google Play store. Download Smartphone Link for iPhone® at iTunes.
Customized Truck Routing1
dēzl has detailed maps for Europe (45 countries) that also include truck-related restrictions – like bridge heights, sharp curves, weight limits and more – and related information for most major roads and highways. Just enter your vehicle profile information (customisable by height, weight, length, width and hazardous materials) and find truck-preferred routes suitable for the size and weight of your truck³. Simple truck profile lets you easily swap trailer sizes with the touch of a button.
The onboard Trip Planner lets you create multiple-stop routes and plan and save on future trips.
Spoken Directions Using Recognizable Landmarks
Spoken Garmin Real Directions™ guide like a friend, using recognisable buildings, landmarks and traffic lights, rather than hard-to-read or nonexistent street signs.
"Turn left after pharmacy."
Truck-specific POIs and Exit Services
Need help finding places to go? Locate points of interest that professional drivers care about such as truck stops, parking, restaurants, hotels and more. Our POI database now includes additional search information sourced from Foursquare®, adding millions of new and popular restaurants, shops, services and more in your area.
Up Ahead
With the Up Ahead feature, you can easily find places you want without leaving the map. As you drive your route, Up Ahead constantly informs you of nearby services, including food, fuel and ATMs. Best of all, Up Ahead is customisable, so you can always know the location of favorite destinations along the way.
Lifetime Maps3 & Traffic4
dēzl comes bundled with lifetime maps of Europe. You can download the newest data for maps – and points of interest, too – with no monthly fees or maintenance costs for the lifetime3 of your device.
With dēzl, you can avoid traffic tie-ups and keep moving with suggested detours. A combination power cable/traffic receiver in the box gives you 100% subscription-free traffic services for the life of your device. Some models offer Garmin Digital Traffic via DAB, the best trafic avoidance solution available from Garmin. No additional purchases necessary.
Learn more about Garmin traffic avoidance here.
Service History Log
The Service History Log on your dēzl allows you to keep track of tire mileage, tire changes, tire pressure, oil changes, and more. Easily record dates, mileage and performed maintenance.
Bluetooth® Compatible
Stay focused on the road and talk hands-free. dēzl integrates Bluetooth wireless technology with a built-in microphone and speaker. Just add your compatible Bluetooth phone. dēzl can also be paired with a Bluetoooth-enabled headset to make and receive phone calls – even conference calls.
See Behind Your Truck When Reversing
When paired with dēzl, Garmin BC™ 30 Wireless Backup Camera (sold separately) lets you easily see what's behind your truck—to help minimize the risk of "blind zone" accidents whenever you're in reverse. Rearview video right on your dēzl's screen enables you to easily spot vehicles, pedestrians and other obstructions.
Fleet Management
Our fleet management and dispatch messaging enables direct-to-driver communication via text messaging as well as instant re-routing with "new destination" message prompts. You can specify the exact route your driver should take and enable the completion and return of Custom forms required for your business – all directly via the Garmin dēzl. For more information go to Garmin.com/solutions.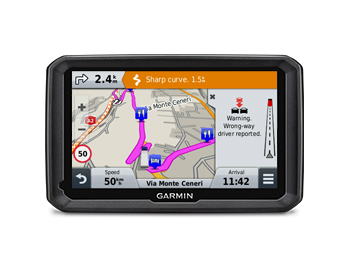 dēzl 570LMT-D
An advanced truck navigator with a 5" glass display and an impressive set of driver-friendly features, including improved spoken guidance and Digital Traffic (DAB).
Look Closer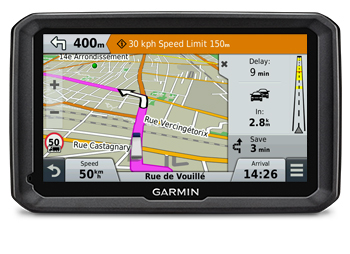 dēzl 770LMT-D
Our advanced truck navigator includes all the features available on our 570LMT-D model, now displayed on a larger 7" glass display. This model also includes Digital Traffic (DAB), with updates as often as every 1 minute. dēzl 770LMT-D may be paired with a Bluetooth-enabled headset (sold separately) to make and receive phone calls.
Look Closer
dēzlCam LMT-D
Our premium truck navigation solution that combines all the great features for truckers from our 770LMT-D model, plus a built-in Dash Cam that serves as your onboard eyewitness when you're on the road. The Automatic Incident Detection (G-sensor) saves video footage on impact. The powered magnetic mount lets you easily remove or secure dēzlCam inside your cab.
Look Closer
2 User's data plan charges, if any, will apply. Contact your mobile service provider for more information about your service plan's data and roaming rates. Subscription required.
3 For the meaning of the product's "useful life" and for other important terms and conditions, please see Lifetime Maps Terms & Conditions.
4 For Lifetime Traffic Terms & Conditions see Lifetime Traffic Terms & Conditions.
5 Requires Bluetooth-enabled smartphone (sold separately).
6 Notice: In some jurisdictions it could be considered an invasion of privacy rights to take or publicly display photographs or videos of people or their vehicles using this product. It is your responsibility to know and comply with applicable laws and rights to privacy in your jurisdiction.
The Bluetooth® word mark and logos are owned by the Bluetooth SIG, Inc. and any use of such marks by Garmin is under license. Other trademarks and trade names are those of respective owners.
Garmin digital traffic is available in Netherlands, Belgium, Germany, UK and Norway for dēzl 570 LMT-D, dēzl 770 LMT-D and dēzlCam LMT-D.
Foursquare® and the Foursquare® logos are registered trademarks of Foursquare Labs, Inc.
iPhone® is a trademark of Apple, Inc., registered in the U.S. and other countries.
Android™ is a trademark of Google Inc.